Short Sunderland T9044
Pembroke Dock
I was lucky enough to be invited to dive the wreck of this Sunderland in Pembroke dock. This is the aircraft that was the subject of a program on the Wreck Detectives series and since the Wreck Detectives exploration dives on the Sunderland, Milford Haven Port Authority has placed a 100-metre exclusion zone around the site. Fishing here is now prohibited and those wishing to dive it must apply for a license from the Port Authority. The wreck was located by the Celtic Divers diving club whilst clearing nets.
Video of T9044 at Pembroke Dock
T9044 was one of a batch of 20 Mk 1 aircraft built by Short Brothers and served with 201 Sqadron RAF and sank in a gale on 21st November 1940. An engine was recovered and can be viewed at the Pembroke Dock Museum trust who can be contacted on 01646 622246.
Even though there are examples of the Sunderland in museums, there are no examples of a Mk1 and as the war ended, many were scuttled as they were surplus to requirements. One of the "sister" aircraft, that was built in the same batch as T9044, is T9049 which was scuttled on the 11th December 1946 in Loch Ryan. This aircraft also has a Pembroke Dock Pedigree, as you can see by the movement card below, and has been located and dived.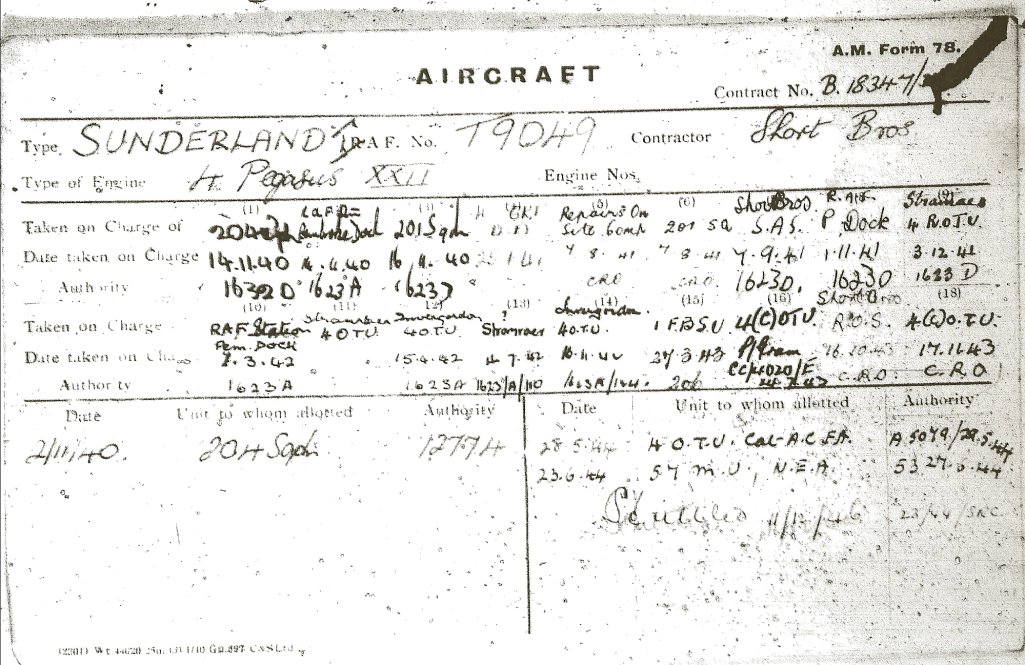 Scuttling aircraft that were surplus to requirements was quite common in those days as the scrap yards were full or airframes and the price of raw materials dropped through the floor. Even airworthy aircraft were just towed into deeper water and just scuttled. Here is the movement card of another 201Sqn aircraft from Pembroke Dock that was scuttled in Loch Ryan. It's a Mk II Sunderland and none of these aircraft exist in museums either and as you can see it quite clearly says "Scuttled 11/12/46".